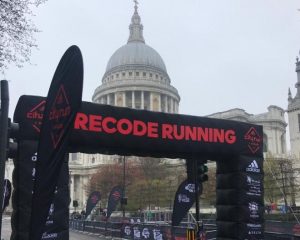 April is panning out to be, not just a sizzler of a month but, a bit of a marathon too for the NSR team. The first weekend found the team out in Paternoster Square in St Paul's, London setting up for the first of the 2019 Adidas City Runs, supplying PA systems for the competitors area and start line, which will be followed by two further City Run events in July in Shoreditch and the third later in the year in November in Fulham. However, this was just a warm up for a 'marathon' month as the team is also involved with not one, but two marathons this month; the Brighton Marathon and the Virgin Money London Marathon.
The Brighton Marathon came hot on the heels of the City Run event the following weekend and saw the NSR team transport two of their first-class Production Units down to the Brighton coast to house the production teams at the start and finish of the race. A two tier unit was located at the start area at Preston Park and a single tier unit was located that the finish line on Madeira Drive. The sun shone on the competitors over the weekend and one couple even got married half way round, with the bridge throwing her bouquet into the crowd as she ran past with her husband!
The last weekend in April sees the team pulling out all the stops for the Virgin Money London Marathon, an event NSR has been involved with since it began back in 1981 when just over 6,000 runners took part. Today, this international event, has grown exponentially with over 40,000 runners competing last year. NSR has its work cut out over this weekend with multiple PA systems at Blackheath, the start area of the race, as well as Production Units in a few different locations, wireless microphones for the commentary team, televisions for the hospitality areas, megaphones for the stewards, the supply list goes on!
Stamina is the main ingredient for NSR in April; as it's not a sprint, it's a marathon!