Remembrance Week is a poignant time of the year for everyone, where young and old alike remember those that have given their lives in conflict for their country with many services are held the length and breadth of the UK.  The NSR team was asked to supply communications equipment for two such Remembrance services, the first at Westminster Abbey and the second at Harrow Civic Centre.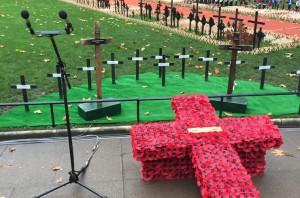 The 'Field of Remembrance' at Westminster Abbey on Thursday 5th November had HRH Prince Phillip and HRH Prince Harry in attendance where NSR supplied the PA covering the grassed area of the Abbey, which also transmitted a signal to the QE11 conference centre across the road to enable the rest of the congregation, who stood in front of the centre, to be a part of the service.
On Sunday 8th November, a mile and a half northwest of Westminster Abbey in Harrow, the NSR team supplied equipment for a Remembrance Day parade at Harrow Civic Centre where local heads of many faiths came together to remember those they have lost.  Here NSR set-up a PA covering two grandstands, a road-side system covering a crowd line and a car park system for military groups from across the armed forces.  A local brass band and choir supplied the music and hymns throughout the parade for which NSR supplied 15 microphones that all fed back to an NSR control unit.
It was a privilege to be a part of these Remembrance Services and remember those that gave their lives for us to live in peace.