This page covers some of the items that can be missed out of your system that it requires to give it its final touch.
This covers such items like audio Equalisers, Limiters, Gates, Compressors and other items related to keeping the system balanced. These items would also help amplifiers run more efficiently and will help to prevent damaging the speakers
We have in stock various types of Equalisers for the speakers we have in our stock and items that can be programmed to suit all makes, models and types of speaker.
Below are a few examples of what we have in our stock and can supply
---
Soundweb sw9088iis DSP Hardware
Soundweb
This Networked Signal Processor forms the heart of the Soundweb system. In a single rack space unit, it offers 8 analogue audio inputs, 8 analogue audio outputs, 200 MIPS of digital signal processing, a pair of network jacks, and a variety of control options.

Electro-Voice DC-One
Electro-Voice
The DC-One is designed primarily for users of small-to-medium sized sound systems in both mobile and installed applications. Its the best choice for achieving maximum performance with an EV loudspeaker system but also can be configured to assist pretty much any speaker.
DBX 166XL
DBX
The DBX 166XL has three functions. It can be used as an Audio Compressor, an Audio Gate and an Audio Limiter.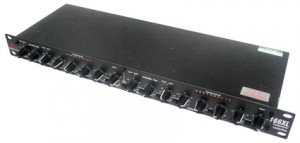 More available please call for details:
+44 (0)1923 209640