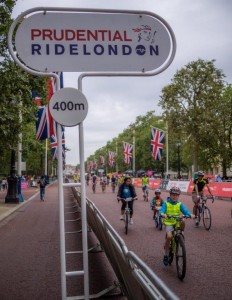 RideLondon, a three-day festival of cycling, is simply the biggest event in the cycling calendar.  Now in its fourth year NSR has an even bigger part in it than ever before!  The event caters for both amateur and professional cyclists and thousands make the trip to London from across the country and overseas to take part in one of the six events: the Grand Prix, the Freecycle, the Brompton World Championships, the Classique, the 46, the Classic where 150 of the world's top pro cyclists battle it out for supremacy over a 200km ride through London and Surrey and, of course, the RideLondon 100 where thousands of amateur cyclists take on the 100km challenge many cycling for charity.
NSR's part in the festival started several days before the first cyclist even clicked in their cleats.  In one way or another the NSR team was involved in all of the cycle events that took place over the three days.  They were responsible for not just the PA systems and communications but also for temporary power solutions throughout the duration of the festival.
NSR sited generators that provided the power for the water/refreshment stations and the inflatables along the 100 route in addition to generators required for power at Brooklands College and the Velodrome, the Mecca of cycling following the 2012 London Olympics.  Here the NSR team set up a full PA system for the commentary that covered the BMX course as well as a PA system for the external road track in the village plaza in Lee Valley Park where the organisers also made use of one of NSR's Two tier units for control and commentary.
For the Brompton World Championships held in The Mall on the Saturday of the festival NSR provided the generator and power distribution as well as the PA system that carried the commentary for the competition.  On Sunday a further PA system (with radio mics) was set-up at the start line of the Classic event in Horse Guards Parade in addition to second PA system at the start of the 100 start area in the Olympic Park along with a second Two tier unit supplied.
As one of the world's most iconic cycling events the eyes of the world were watching so the pressure was on but everything went off without a hitch in what was an extremely busy weekend for the NSR team.