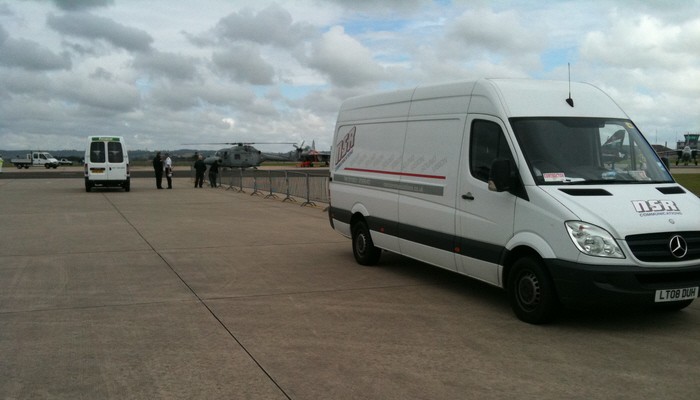 Case Study Title – Flying High with NSR
Air shows have long since featured in the NSR calendar, which come with an extensive requirement for cable and sound challenges peculiar to this type of event.
In just one month of Air Shows, including RAF Cosford, RNAS Yeovilton, Fairford International Air Tattoo and RNAS Culdrose, the NSR team used a total of 7,250m of cable. However, cabling is not the only piece of equipment that comes in great quantities! Due to the popularity of air shows in the UK multiple lines of speaker towers are required to ensure the visiting public audience get to experience the excitement air shows offer.
A viewing line at an air show can often be over a kilometre in length, which will require a corresponding frontline PA system. However, it does not stop there, the depth of audience at these events means a second line of speakers, and sometimes a third, is required to ensure the whole audience hears what is going on. With multiple speaker lines the NSR technicians need to delay the sound to avoid echo during broadcasts.
As the name suggests, the action takes place in the air so the commentators at these events need a special type of commentary unit. NSR has developed a purpose built double-decker unit with a windowed ceiling on the upper level allowing the commentators to easily view everything as it happens and relay this to the audience.